What's your identifier?

Say your friend mentions you to someone you've met before, but they've forgotten your name. "Wait, who is ___ again?" they might ask. What do you think your friend would say to help them remember who you are?

It could be anything. Maybe a really unique physical characteristic (weird piercing? unnatural hair color?), a relationship (so-and-so's sister? best friend? boyfriend?), a hobby (captain of the chess club?), a personality trait (offensive sense of humor?)... ANYTHING.

So I ask you guys this: What is the ONE characteristic that you imagine first comes to mind when someone hears your name? It might be different depending on the person (like, if the people you went to high school with remember you as the valedictorian, but your coworkers know you as the asskisser of the office), but you can only pick one thing per social circle. Don't just give me a list describing yourself.

Also, what do YOU think is your most important characteristic? If you were meeting someone for the first time and could only tell them ONE thing, what one thing would provide the most insight into who you really are?
Surprise Me





Posts

: 2984


Join date

: 2010-05-15


Age

: 24


Location

: Colton, CA



As for me, my identifier definitely depends on who we're talking about.

To random people I only interact with on social media, it's probably "the music snob" (I post about music more than anything else). To people from high school, it's "the smart one." To my college friends, it's "the easy crier" (I thrive on deep, personal conversations, and I open up about a lot of stuff). To my family, it's "the one who farts a lot" (seriously... my cousins have had to warn their significant others about me before I'm allowed to meet them).

As for what I personally think is my most defining characteristic, I'd say it's my tendency to get way too attached to other people. Almost everything I do is in some way motivated by the high value I place on others in comparison to myself. At least, that's how I prefer to view myself.
Surprise Me





Posts

: 2984


Join date

: 2010-05-15


Age

: 24


Location

: Colton, CA



I am guessing most people refer to me as the weird tall dude
Leliel





Posts

: 2841


Join date

: 2010-05-16


Age

: 107


Location

: 51°10′44″N 1°49′34″W



I would have to say being quiet all the time. Seriously I rarely talk in real life and will just sort of stand there and listen to everyone else talk. Maybe throw in the occasional joke that I am the only one who probably think is funny.

This characteristic pretty much covers former classmates(seriously that's how one described me according to my aunt.) to family members to coworkers to friends. That quiet guy who doesn't usually smile... Hmm isn't that a warning sign for something... Yeah that's probably what they think or thought.

I honestly don't know what i think my defining characteristic trait thingamabob is. Perhaps that I can easily be consumed by whatever book/ show I am currently into? Nah. Um... Seriously I just have no idea.

_________________


Sometimes, late at night, I sit here and I wonder. The things I wonder vary from night to night. Sometimes I wonder about the stars and other nights I wonder about what tomorrow will be like. But recently I have been wondering what my life would have been like without you...-Samantha Greene
Rune Warrior





Posts

: 3944


Join date

: 2010-05-14


Age

: 108


Location

: In The Infinite Void of Space



Freshman year of high school I was "Andrew's sister" to SO many people because he's 3 years older than me.

For friends, hopefully the nice one, maybe kinda weird haha.

To other people, it's probably just the quiet one because I don't say much unless I'm in a comfortable situation.

I also get way attached to people. I can never decide if it's good or bad but it's probably kind of annoying to those people.
Dancer





Posts

: 1396


Join date

: 2010-05-15


Age

: 24


Location

: AK Rowdy



It's really funny, because in the car community nobody remembers people by their name, only their car. I'm "the chick with the red Impala SS". I have people on my Facebook friends list, that if they change their profile picture to themselves instead of their car, I have no idea who they are. Even meeting people in person at meets and shows for the second or third time, I don't remember until I see what they drive haha.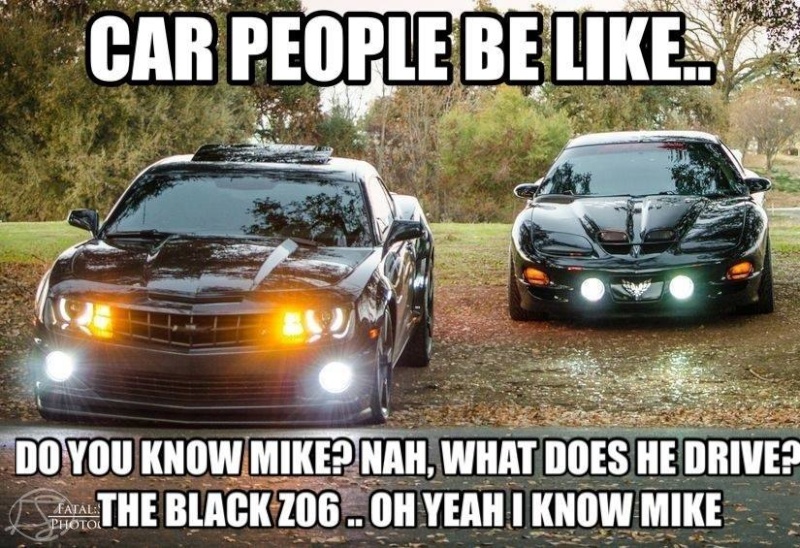 I'm also "the crazy snake chick".

_________________


"Open your mind before your mouth." - Motionless in White
Book-face.
Follow me on Instagram!
Music Freak




Posts

: 1392


Join date

: 2010-05-15


Age

: 30


Location

: New York (No, not the damn city)




---
Permissions in this forum:
You
cannot
reply to topics in this forum